Azerbaijan: Harlem Shake video-maker arrested in Baku, protests in London
One month since Ilkin Rustemzade was arrested for filming a Harlem Shake video in Baku, human rights groups marked the day by staging an 'Azerbaijan Harlem Shake' protest in London while calling for the release of political prisoners in Azerbaijan.
This video was published on YouTube.com on 16 June 2013. Three days earlier, the Azerbaijani human rights group Art for Democracy published a press release from London. Here is an excerpt:
"Today, a group of Londoners staged a Harlem Shake protest in front of the Azerbaijani Embassy to call for the release of political prisoners in Azerbaijan. The protest was organised by the Art for Democracy campaign, ARTICLE 19, and Index on Censorship.
It follows the politically motivated arrest of Azerbaijani youth activist Ilkin Rustemzade in connection with a Harlem Shake video filmed in Baku. He faces up to five years in prison if convicted. Ilkin Rustemzade joins more than 80 other political prisoners in Azerbaijan.
The protesters made a Harlem Shake video to highlight the absurdity of Rustemzade's arrest. The video is intended to draw international attention to the serious problem of political prisoners and the overall alarming human rights situation in Azerbaijan.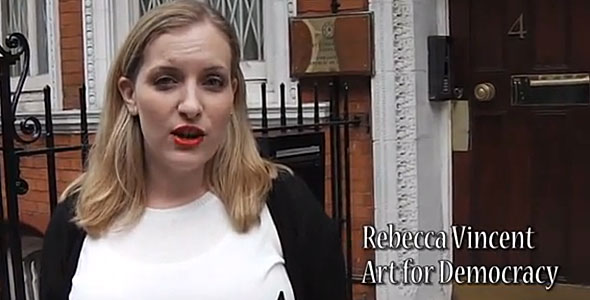 "The human rights situation in Azerbaijan is deteriorating every day, and we fear it will continue to worsen in the run-up to October's presidential election. The international community – including the British Government – must end its policy of wilful blindness towards human rights violations in Azerbaijan and stop prioritising other interests ahead of the country's democratisation", said Art for Democracy's Advocacy Director, Rebecca Vincent."
Slate – 20 May 2013:
Harlem Shake Video Lands Azerbaijani Activist in Jail for "Hooliganism"
By Rebecca Vincent


• Arts for Democracy is a Baku-based campaign that seeks to use all forms of artistic expression to promote human rights and democratic reform in Azerbaijan.
• For more information, or to arrange interviews with spokespersons from Art for Democracy, please contact Rebecca Vincent at +44 (0)7583 137751 or This e-mail address is being protected from spambots. You need JavaScript enabled to view it
► Art for Democracy's YouTube channel
► Art for Democracy's Facebook page: facebook.com/Art4Democracy
(article reproduced by permission from http://artsfreedom.org)